Daisuke Iguchi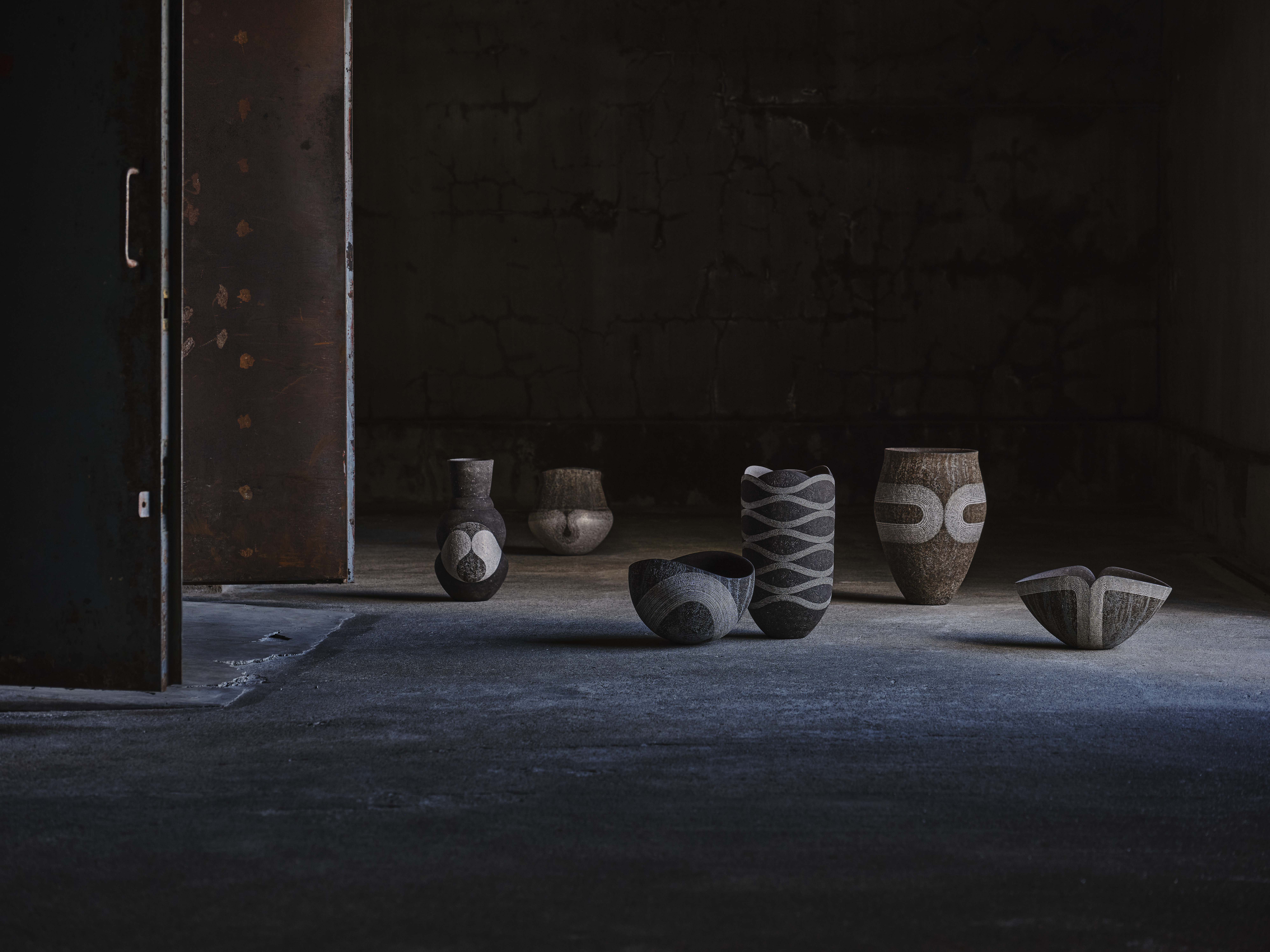 23 November - 23 December 2023
Pierre Marie Giraud is pleased to announce a new exhibition by Daisuke Iguchi, starting on November 23th and running until December 22th, 2023.
Iguchi Daisuke is a ceramic artist who expresses his individuality by combining contrasting elements - the primitive and the modern - in vessels with straightforward, dense surfaces and sharply delineated forms.
The city of Mooka, where Iguchi was born and raised and now maintains his studio, is located next to the well-known pottery town of Mashiko in Tochigi Prefecture. Although his own family was not involved in the ceramics industry, Iguchi studied ceramic art at Tohoku University of Art and Design and the Industrial Technology Center of Tochigi Prefecture, and later apprenticed under Uraguchi Masayuki, a ceramic artist producing celadon ware in Ibaraki. Iguchi's current style is completely different from celadon, noted for the color and texture of its thick glaze. Perhaps what he discovered during his apprenticeship was the direction he wanted to pursue in his own expression: not through the chemical reactions that occur in glazes during firing, but the expressions that can be achieved in fired clay surfaces. In time, Iguchi developed vessel forms featuring vitrified clay surfaces with a rust-like texture. He calls these works shuto (lit. "rust ceramic"). Encrusted as if they have been covered with moss for many years, the surfaces of his vessels are fascinating.
These surfaces are accomplished by using clay with a high iron content from Makabe in Ibaraki Prefecture, not far from Mooka, and firing it in a particular way. Iguchi's forms are created from his own original clay body based on Makabe clay. The forms are then coated with rice hull ash, and after firing, the surface is scraped with a brush. The work is fired with a technique known as reduction cooling; restricting the oxygen in the firing atmosphere extracts oxygen from the clay during high-temperature firing. Maintaining the reduction atmosphere during cooling carbonizes the clay to achieve a dense vitrified effect. Iron in the clay reacts with the rice hull ash for a richly expressive gray-black surface.

Embracing the concept of Sabi - an admiration of that which is old and faded - Iguchi's works celebrate the wearing effect of time on all things. The curves and volumes of his elegant and ample shapes are highlighted by Iguchi's characteristic pattern of parallel white lines. Through the process of their making his artworks grow a personal history evidenced in their uncanny aura of antiques and other worn-out artefacts.

Join us at the gallery on Thursday, November 23, for the opening of Daisuke Iguchi's exhibition from 5 to 8 PM in the presence of the artist.